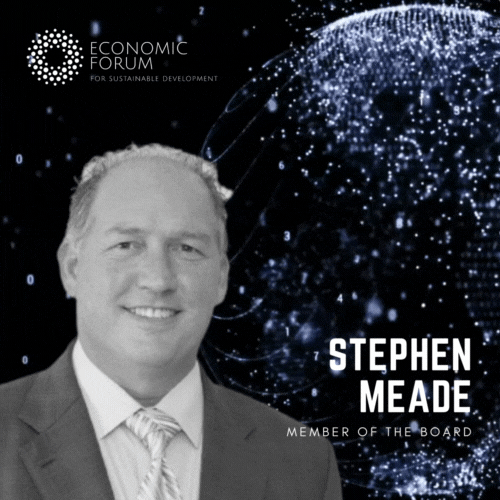 Stephen Meade – MEMBER of the BOARD
STEPHEN MEADE is the founder of Big Bamboo, a holding company that accelerates ideas into the formation of companies. As CEO of multiple public companies and advisor with dozens of startups, Meade has demonstrated the ability to rapidly scale capital, revenue, and customers by effectively building and training teams. Meade is passionate about creating world-changing companies as a mentor and executive.
Known globally as "The BullsEye Guy," Meade has taught his signature Ten Step "Bullseye Belief System" which demonstrates how an individual can create and target exactly what's needed to succeed in business and life. His rigorous focus on using sales psychology to communicate simple ideas across a strategically targeted network has evolved into The BullsEye Belief System. This system has helped to create, incubate, and architect nine different companies spanning the development of the internet, eCommerce, payment processing, and blockchain technology.
Meade is also the Founder of MonetaPro.io (a blockchain-based global barter platform), MagMo (social media photo-sharing tool), and Thanks 4 Your Service (nonprofit supporting first responders, law enforcement, and the military). He also hosts "The BullsEye Guy Podcast" featuring entrepreneurs, entertainers, authors, and changemakers around the world.
Recently, Meade was asked to join the Board of the prestigious company Centurion Invest (which includes a Crypto Exchange, Blockchain Banking, and a full suite of Business services). In this role, he is the Director of Corporate Finance and Fundraising.